Are you a part of an awesome team?
Get Certified
To Manage Joint Venture Programs
As the world becomes more connected, there are more opportunities than ever for businesses to work together. However, your business owner might need help finding potential partners or maintain complex Joint Venture relationships.
That's where a Joint Venture Manager steps in.
If you have good communication skills, excellent attention to detail, and are a natural problem solver, then I'd love to train you to help creat your business's impact.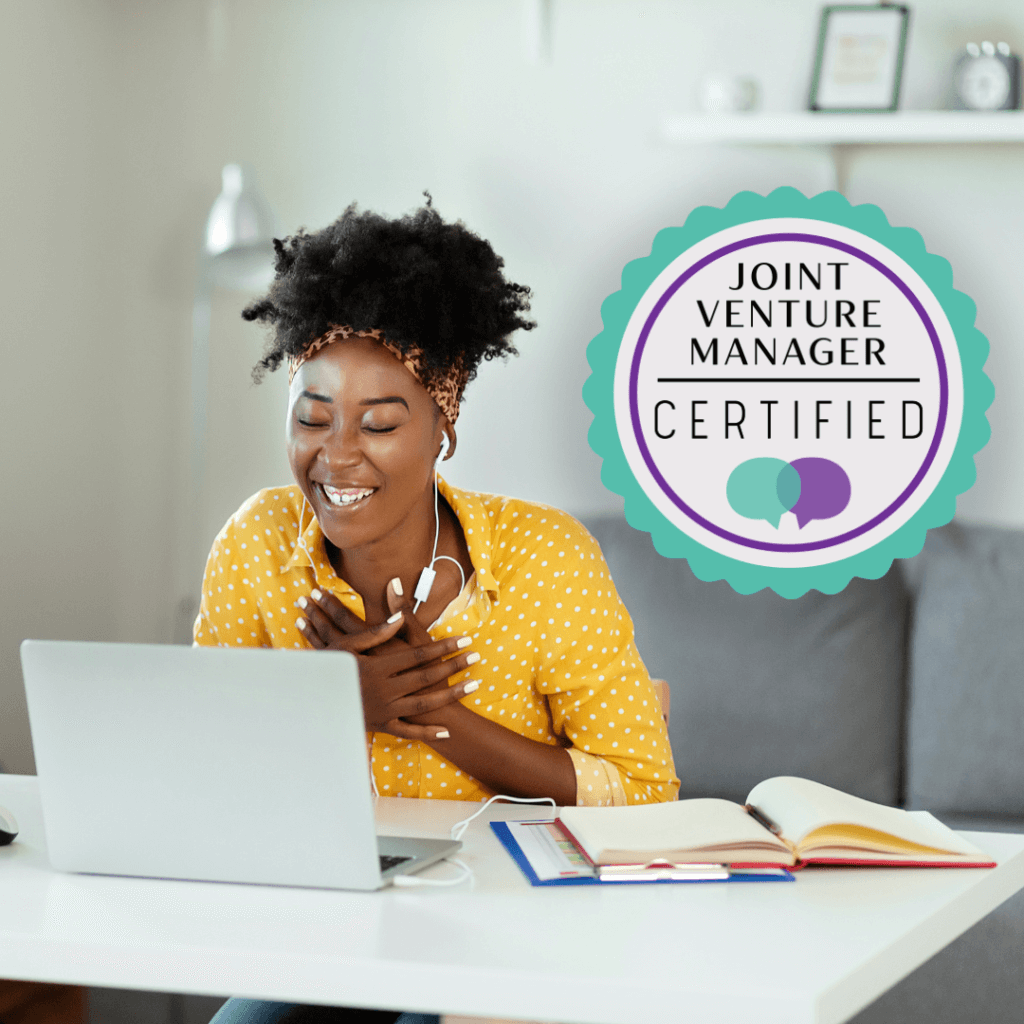 YES!
You can help scale your team by utilizing your good communication skills and building relationships with the right partners.
Your instructor
Meet Marie
Hi friend! I'm Marie.
I help busy online coaches, speakers, & authors scale their online businesses by creating powerful relationships with joint venture partners so they can peacefully create visibility & authority in their niche.
But, before I had my 1000th joint venture call, and before I increased my and my clients' revenue by 130% every quarter…
I was a WFHM trying to find my way in a busy online world.
I was searching for my place. I was saying yes to any client request, even on the brink of burnout. And I was scared for years, as I watched more and more of my client's success, that I would never find my expertise.
That was until I broke into the world of Joint Venture Partnerships. Affiliate management allowed me to build my business with intention and I now attract my ideal clients with ease. 
I went from overload to relationship building and from non-stop hustle to finding balance and I know you can too! 
By helping your team find business partners, you can help generate more impact and exponentially increase your business's visibility.
Get Certified
What's Included
The Joint Venture Manager Certification program is designed to help you build your confidence and skills. The training will help you:
✓ Learn how to create and present a powerful message that will attract partners and professionals.
✓ Understand the principles of virtual call management, influence and relationship building.
✓ Set goals for yourself and others to scale business in a fun and inviting way.
The Certification Includes:
Live Virtual Kick-Off Training
3 Training Sessions
Breakout Training Session
1 Hour 1on1

 with Marie

Shadow Real Client Calls
JV Manager Powerhouse Calls
Bonus! Free Voxer Access to ask your important questions NOW!
Working with Marie Mack on The Big Talk Academy launch was easy, effective and fun. She is organized, efficient and understands the nuances with managing joint venture collaborations. I will work with her again and again.
Marie is top class JV manager. She's actively introducing me to new JV partners consistently.
Marie's brought me more profitable JV connections that turned into deals than any other JV manager I've worked with.
She's everywhere. Everyone knows her. Her reputation is impeccable. Without Marie in the picture, I wouldn't have landed half the JVs I connect with. Marie carries me!
Session 1
How to use this in your team
Presenting yourself as a joint venture manager
Vocab and important terms so you know exactly what you're talking about
Representing your team confidently
Session 2
Joint Venture Manager Programs
Must have software or programs to have in your joint venture manager business
Training on how to use the top 5 MUST HAVE JV Manger programs (lifetime access to these recordings)
How to integrate into your client programs
Session 4
How to host calls & find prospects
How to curate the RIGHT prospects for your team
How to invite those prospects to have a Zoom call (email scripts included)
Why do we email reminds SO MUCH?!
How to host a call that will allow you to create a win-win-win deal in 30 minutes (call script included)
Session 5
Managing the Deal
After the deal is done, be sure your team (AND YOU) do what you promise
Helping joint venture partners do what they say THEY are going to do (hint: lots of communication)
Tracking stats
The importance of the debrief call (call scrip included)
Session 6
When it's not a fit. Dealing with difficult scenarios
How to know in the first 5 minutes of a call if this is a good fit for your team
How to manage partners who are rude or don't want to share information
How to "Bless and Release" partners who may be rude in email
How to keep your mindset strong throughout 100s of conversations per quarter
Bonus Session
Breakout rooms with other members of the certification so you can practice your scripts and ask questions.
Hot seat feedback
Add On Bonus - Currently Free for all new Members
Voxer access to Marie stays on for as long as your certification is in good standing
Ask ANY question that comes up to do with joint venture partnerships
Replies within 24 hours
What the Certification Process Looks Like
04
1:1 Shadow Calls with Marie
Applications are due January 13, 2022. Submit your application today!
frequently asked questions
You've got questions
We've got answers
How is this program different?
To start, I've never been certified as a joint venture manager and I know there are several programs that focus on affiliate management. This is just different. We are talking about LONG TERM relationships that focus on the win-win-win of online partnerships.
If you want to be sure this is the right training for you, I would suggest looking at the curriculum and who you enjoy learning from. Also be sure the outcomes are going to give you the tools you need to be confident in the online joint venture space. Of course, I have a passion for joint venture partnerships and I'd love for you to be apart of it.
Here's the syllabus for the certification.
How much time do I need to commit for this certification?
There are 3 phases to this certification. 
6 hour live training & 1 hour bonus hot-seat/role place session right after.
(Recordings will be sent ONLY to those who attend live.)
1 hour One on One session with Marie. She'll answer all your questions and help you feel confident in your JV manager role. 
3 call shadowing with Marie or a certified member of her team. Here you'll see the training you've learned IN ACTION with a 10 minute debrief after each call. 
After that, you'll have a requirement of 1 hour of continuing ed per quarter for as long as you would like to keep your certification valid. Here' you'll be in a small group of JV Manager Powerhouses as we share what's working NOW in JVing and how to handle difficult clients and calls. This is HUGE! You'll have support from amazing JV managers and create a community of support around you and our clients. 
Does this program teach online tech for joint venture managers?
This program is going to focus on giving you the skills needed to have powerful joint venture conversations with others. We will talk about software and programs that might make your work easier (and there are bonus trainings that go along with those suggestions), but it's up to you to learn the skills needed for your online tech stack. 
You will leave the certification program with everything you need (templates, scripts, continued support, and more) so that you can live a lifestyle you choose.
What's the difference between a certification and a course?
Most courses don't have any requirements to join or be apart of the community. A lot of the times, it's also self-paced. In this certification, we have a beginning and an end date. There are also certain criteria to join and complete the program. 
Do you have a DIY version of this certification?
Not so much. This program is highly customized. Although you'll have a cohort that will join you and you'll be taught the same materials, the way you utilize the material and implement it in your life and business is highly personalized. There's not any way to put together a DIY for this type of personalization. 
Is there a money-back guarantee?
This program is high-touch and customized. Marie and the team will not enroll anyone who is not a perfect fit. With that, there is no refund window or money-back guarantee considering the vetting process for members to enter the program.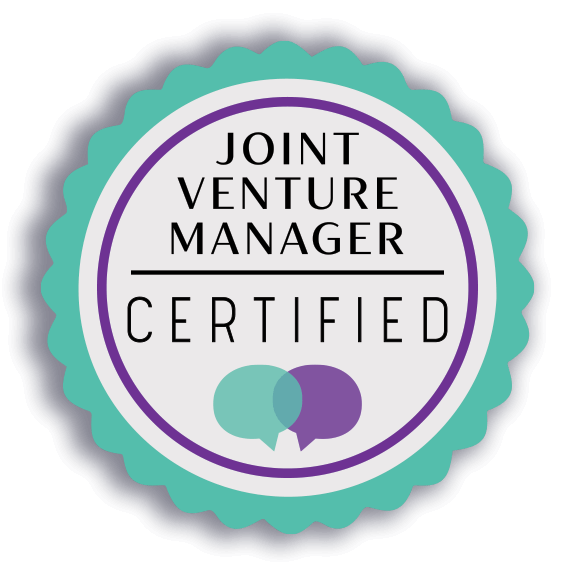 Step up your game
Become an elite Joint Venture Manager today
This Joint Venture Manager Certification program is the only comprehensive and effective training of its kind to take the detail-oriented and relationship building skills you already possess and give you the tools to increase your income potential and advance your profession.
With this proven and recognized system, you'll have the confidence you need to succeed as a Joint Venture Manager for your team.